In Loving Memory of
Eddy Johnson
of
Michaels Banquet House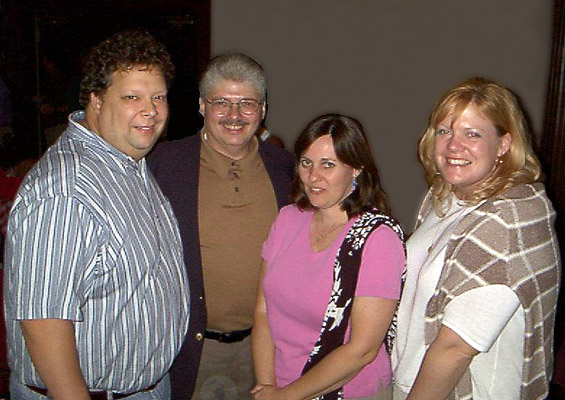 Eddy Rick and Wife Kim

Eddy Johnson
January 22, 2003

Our hearts, prayers, and thoughts go out to the family
of Eddy Johnson, to his beloved fiancée Kim Dwyer,
and to Rick Treacy and staff of Michaels Banquet House.
Edward J. (Eddy) Johnson, 42, of Colonie, passed away January 22, 2003.
Born in Troy, he was the son of the late Edward and Jacqueline Masse Johnson.
A lifelong resident of the Town of Colonie, he was a graduate of Shaker High School,
Class of 1978. Eddy graduated from the Schenectady County Community College
Culinary School. He was chef and co-owner of Michaels Banquet House, Latham,
having worked there for over 22 years with friends Rick Treacy and Rudy Cicotti.
Among his many contributions to various organizations, he was
a generous donor to the Little Sisters of the Poor, Latham.
He received a life-time achievement award from the
Capital District Wedding Association.
Survivors include three sisters, Carolyn Van Vranken of Albany, Eleanore Coon of Stillwater,
and, Jackie Arnold of Mechanicville; three brothers, Michael Johnson of Wynantskill,
Thomas Pottenburgh of Clifton Park, and, Joseph Pottenburgh of Hudson;
several nieces, nephews and family and friends,
and especially, his beloved fiancee Kimberlee Dwyer of Rensselaer.
Funeral services were held through the Bowen Funeral Home in Latham.
Interment was at St. Pauls Cemetery, Mechanicville.
Cards May Be Sent To:
Eddy Johnson Family
Michaels Banquet House
1019 New Loudon Road
Cohoes, NY 12047
Kimberlee Dwyer
Michaels Banquet House
1019 New Loudon Road
Cohoes, NY 12047
Michaels Staff and Friends
1019 New Loudon Road
Cohoes, NY 12047
Memorial Contributions
Edward J. Johnson Memorial Fund
c/o AYCO Charity Foundation
P.O. Box 8009
Clifton Park, NY 12065
(for Children's Causes and Heart Research)